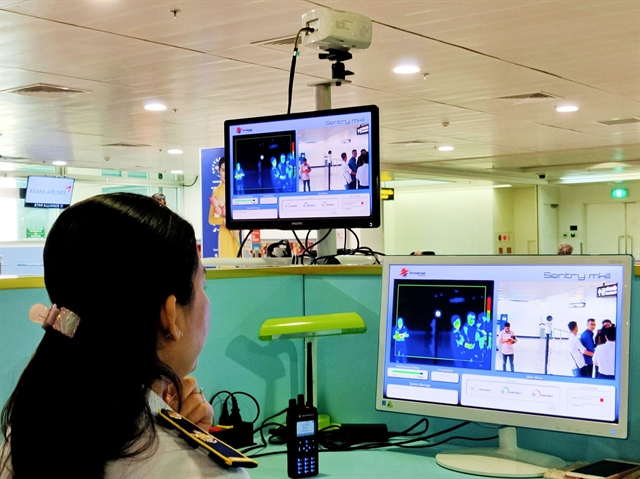 HÀ NỘI — All travellers entering Việt Nam from China must fill out health declaration forms at the border gates from Saturday as part of efforts to prevent the spread of coronavirus.
And flights between Việt Nam and Wuhan, China, the epicentre of the outbreak, have all been grounded.
Health declaration forms will be distributed at all border gates and any visitor showing signs of the virus, such as coughing, shortness of breath or respiratory tract inflammation, will be isolated and subjected to health checks.
From January 23, the Civil Aviation Authority of Việt Nam cancelled all flights between Việt Nam and Wuhan, China.
The authority also said it will not grant new flight licences to airlines on this route.
The authority has mobilised staff to collaborate with medical inspectors to follow the passengers' health at border gates.
Health officials in HCM City on Thursday revealed two visitors from China were in hospital suspected of suffering from coronavirus.
The pair have been identified as father and son, Li Ding, 66, and 28-year-old Li Zichao.
They were admitted to hospital on Wednesday suffering from for pneumonia and later tested positive for corona virus.
According to initial findings, they travelled from Wuhan, China to Hà Nội on January 13 and stayed till January 16.
The Ministry of Health (MoH) said both patients are recovering in Chợ Rẫy Hospital.
China has so far confirmed that 41 people have died and 1,287 people infected by the virus across the country.
The Severe Acute Respiratory Syndrome (SARS)-like virus has spread across Asia and other countries including the US and France.
In Asia, Thailand, Japan, South Korea, Taiwan, Macau, Hongkong, Singapore, Nepal and India confirmed the infected cases.
Australia is the latest country in a growing list to be affected by the illness.
France was the first European country to report the infection. On Friday, it confirmed the first three cases, with two patients being hospitalised in Paris and the other in the southwestern city of Bordeaux. 
Central city put on coronavirus alert 
A group of Chinese tourists from Wuhan visiting the central city, left Đà Nẵng for Nha Trang City after quarantine control by local authorities.
No cases related to coronavirus has found in the city, despite the arrival of 218 tourists from Wuhan.
Chairman of the city's People's Committee Huỳnh Đức Thơ revealed the information in a statement after an urgent meeting with agencies on January 24.
Thơ also asked all agencies set up prevention and control on all passengers and tourists coming from Wuhan to Đà Nẵng.
Vice Director of the city's Health Department Nguyễn Tiên Hồng confirmed that all 218 tourists who came from Wuhan to Đà Nẵng on January 22-24, had shown no signs of illness during their stay.
"We did all the best control measures before they left for Nha Trang at noon on January 24. The city sent warnings and information to authorities of Nha Trang about the group to ensure better control in Nha Trang," Hồng said.
He also said two Chinese tourists visiting from Wuhan on January 15 were tested, with one sent to hospital after showing signs of fever. A blood sample was then sent to a lab in Nha Trang, but results came back negative for coronavirus.
The city's health department also dismissed rumours the coronavirus had infected tourists in the city in previous days.
Nguyễn Minh Sang, director of Hải Vân Cát travel agency in Đà Nẵng, said his company hosted four flights with 300 tourists from Wuhan to Đà Nẵng each week.
Sang said his company had canceled already booked tours for 2,000 tourists from Wuhan to Đà Nẵng on Friday.
The city's health department, in co-operation with airport authority, has arranged an isolated area with staffs to watch the passengers' health at border gates.
Đà Nẵng hosted about 700,000 Chinese tourists in 2019. — VNS