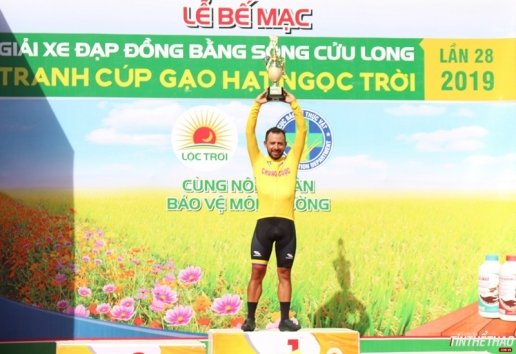 HÀ NỘI — Colombian Jordan Parra who competed for Ynghua Đồng Nai took both overall yellow jersey and green jersey at the Mekong River Delta cycling tournament, known as the Gạo Hạt Ngọc Trời Cup, which finished in Cần Thơ Province on Tuesday.
In the last stage around Cần Thơ City, France's Loic Desriac of Bike Life Đồng Nai triumphed but he couldn't change titles.
Although Parra didn't finish in top three, he still held the overall yellow jersey with the best overall time of 22:00.17 after nine stages. Quàng Văn Cường and Nguyễn Trường Tài of VUS-HCM City were runners-up.
Parra also bagged the green jersey as the best sprinter with 160 points. While Trần Tuấn Kiệt of VUS-HCM City won the white jersey as the best young cyclist.
VUS-HCM City won the title in team's event with the best overall time of 66:03.29, followed by Lộc Trời Group and Domesco Pharmacy Đồng Tháp.
In total, 84 cyclists competed in 14 teams from across the country on an 879-km long journey. The route took competitors through 11 provinces and cities along the Mekong River Delta.
The tournament aimed to find talented riders for the Vietnamese national cycling team in preparation for international events, particularly the 30th Southeast Asian Games which will be held in the Philippines from November 30 to December 10.  VNS