VietNamNet Bridge – In the hot mid-day sun, a boy walking with a big school bag on the street in front of his shop showed signs of suffering from a heat stroke.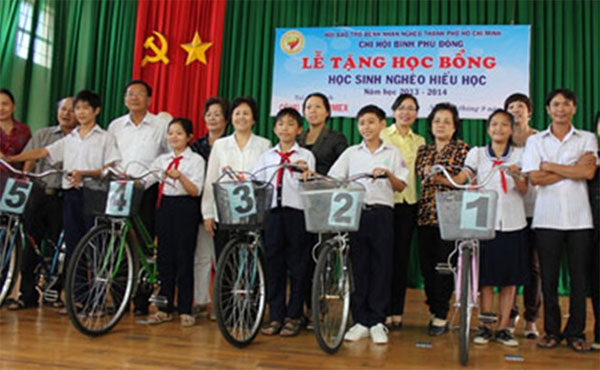 Moving gesture: Poor students with bikes they received from Le Van Thai. Photo tienphong.vn
Le Van Thai, who saw the boy almost everyday, told him to get out of the sun and rest in his small bicycle repair shop for a while.
The boy told Thai that he walked a long way to school and back because his parents did not have enough money to buy a bicycle for him. He said his parents had encouraged him to learn, saying they would save enough money to buy him a new bike one day.
The boy's story took Thai on a trip down memory lane.
He was born in 1975 in the central province of Quang Ngai. Like many children in the countryside, apart from his studies, Thai had to support his family on the farm. The school was more than 10km away, and because he did not have a bicycle, Thai did not attend school regularly.
Thai's father borrowed money to buy a flock of ducks with the hope that the profits from raising them will be enough to buy a bike for him. But all the ducks got sick and died, leaving the family in debt. He eventually dropped out of school and began doing odd jobs for local men.
If only he'd had a bicycle, he wouldn't have dropped out of school, he thought.
Then Thai looked at the broken bikes lying on the ground in his shop and an idea came to his mind.
"If I give you an old bike, will you take it?" Thai asked the boy.
The boy nodded happily, saying he just needed a bike, not matter what its condition.
Over the next few days, Thai worked hard, trying to find good spare parts for assembling a bike for the boy. Once it was done, he took it to the boy's school. Looking at the joy in the boy's eyes made the bike mechanic very happy.
"If he'd bought the old bike, it would cost between VND700,000-800,000 ($31-35). But it cost me just over VND200,000 ($9) as I am a person in the trade and it is easier for me to find the spare parts."
This happened 13 years ago.
An idea is born
From that day onwards, Thai started looking for old bikes that he could rebuild with new spare parts and give them as gifts to poor students.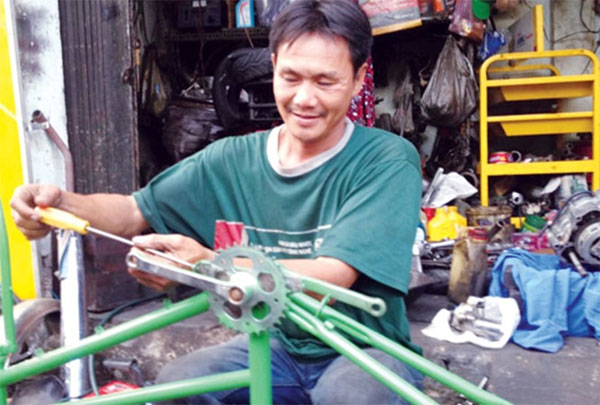 Heart of gold: Le Van Thai revamps broken old bikes and presents them to needy students. – Photo tienphong.vn
To save money, he collected spare parts from scrap dealers and also used those left behind by customers.
Word spread about the kind bike repairman on Hong Lac Street in HCM City's Tan Binh District. Everyone who knew him supported him. Thai could thus get more used bikes donated by kind-hearted people, reducing his costs greatly.
"There are many vehicles that are very good, I just apply some lubrication. Many of them need only a few spare parts replaced. So I can finish a bike in just a few days," Thai said.
In fact, the number of old bikes he got was so many that he asked the Binh Phu Dong Poor Patients Assistance Association for help in storing them.
The association also give Thai a list of needy students, so he could gift bikes to students in the provinces of Ben Tre, Lam Dong, An Giang and Long An, besides HCM City.
Some students' parents offered to pay for the bikes, but he was adamant about not accepting money.
"I am poor but helping the poor is a good thing," Thai told them.
Over the last 12 years, he has gifted nearly 200 bikes to disadvantaged students.
Peace of mind
Thai's generosity is amazing as he has to work hard to support his family with four children and pay VND5 million ($220) for renting the shop.
Vo Coi, a neighbor, said: "Thai's family is poor but his work is really an example for many people to follow."
His good deed has helped strengthen unity and build the spirit of helping each other in the neighbourhood, he said.
"Although Thai's family faces many difficulties, he has done something good, donating bicycles to poor students in the locality," said Pham Ngoc Xuan, an official of the Fatherland Front in Tan Binh District.
Thai has been honoured by HCM City authorities with the "Good people, good deeds" title.
"I didn't have proper schooling, so I really want to do something for poor students," he said.
Asked about his future plans, Thai said he would continue to support his family and present bicycles to those in need.
"I am poor but fortunately I can help other poor people. Doing this will give me peace of mind and help me sleep well at night. " 
VNS