Wednesday, August 27, 2014 – 9:15:04
(VOVworld) – Vietnam has earned 17.4 billion VND from exports of agricultural produce so far this year, up 12% against on the same period last year. When the Trans-Pacific Partnership Agreement and the Free Trade Agreement with the EU are finalized by the end of this year, Vietnam is likely to enjoy more opportunities to expand the market and reduce the dependence on certain markets to ensure sustainable growth.

The exports of coffee, pepper, cashew nuts, seafood, timber, and timber-based products continue to grow in both output and value. A number of other Vietnamese agricultural items, including vegetables and fruits, have successfully penetrated the demanding markets of the EU, the US, Japan, and the Republic of Korea. Vietnam's Green-skinned pomelos and blue dragons alone have become available in 40 countries and territories. 326,000 tons of blue dragons were sold abroad last year bringing in an export value of 200 million USD. So far this year, exports of this fruit continued to increase 16% against last year. Nguyen Xuan Hong, Deputy Director of the Board for the export market development of vegetables, flowers, and fruits, said that to grasp new opportunities, domestic companies should change their approach and the methods of traditional markets by improving the quality and value of Vietnamese advantageous agricultural items. He notes further: "domestic producers should invest more in post-harvest processing technology. For example, we can build factories to make ethanol-blended gasoline using cassava or use timber shavings to process wooden products to replace imported items of the same kind."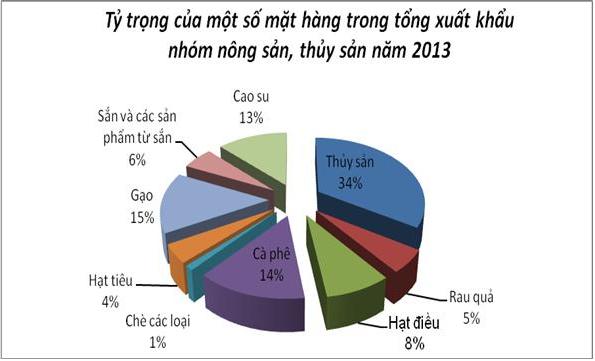 Newly emerging markets in the Middle East and Africa generate a high demand for Vietnamese agricultural produce. Doctor Dang Kim Son, Director of the Institute for Policy and Strategy for Agriculture and Rural Development, says: "to approach a market, Vietnamese businesses should be well aware of its structure in terms of purchasing power and consumption channels, so helping to decide who can be our customers."
Ha Cong Tuan, Deputy Minister of Agriculture and Rural Development, says the ministry is working with related agencies to remove obstacles for enterprises on top of providing them with updated information about the development of markets to make the necessary adjustments. Tuan clarifies the ministry's plan: "the Ministry will focus its state management by boosting the restructuring of domestic farm produce exporters to match market changes and maintain the sector's growth rate of 3% for this year."
In the past years, exports of agricultural, forestry, and aquatic products have accounted for nearly 20% in the total export turnover. To expand these markets, the Ministry will improve product quality along with re-arranging the sector's businesses based on global value chains to raise the competitiveness of Vietnamese farm produce. To this end, sectoral restructuring is vital breakthrough to maintain growth while enhancing food hygiene and safety and managing agricultural materials with the aim of developing a brand of Vietnamese agricultural products.
Minh Long