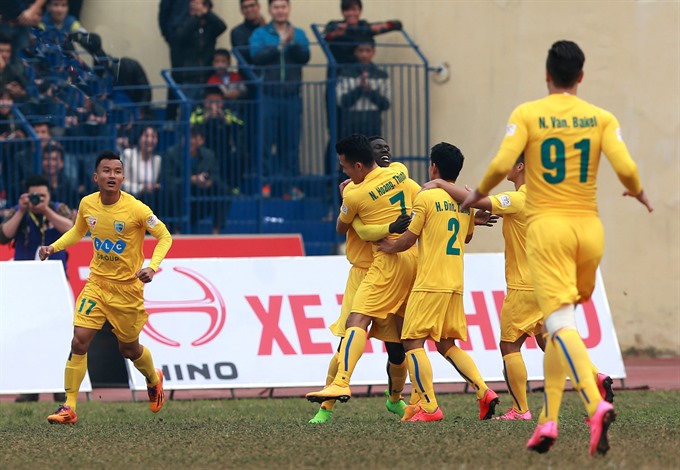 Viet Nam News
HÀ NỘI – Everyone in the V.League is now well acquainted with the shopping habits of FLC Thanh Hóa, who have bought a number of quality players to dominate the national premier league.
Last year, they had Hoà ng Thịnh, Mai Tiến Thà nh and Văn Bình who were to push FLC Thanh Hóa to new heights. However, they not only did not lift the trophy, they did not even make it to the top three as they had in the two previous seasons. Instead, the team finished at No 6.
As this year's tournament approaches, Thanh Hóa's managers are once again determined to win the title, last year's failure giving them a stronger impetus. And once again, they have taken on new players who they hope will help fulfil their dream.
Months ago, Thanh Hóa introduced a new head coach, Ljupko Petrovic, who won the European Cup – now called the Champions League trophy – in 1991 when he took charge of Red Star Belgrade FC.
The Serbian coach has made an impressive mark, and recently, he signed contracts with striker Uche Iheruome and midfielders Đinh Tiến Thà nh and Nguyễn Trọng Hoà ng.
Iheruome scored 14 goals for former club Sanna Khánh Hòa and was one of the three best scorers last year, while both Thà nh from Cần Thơ and Hoà ng from Becamex Bình Dương are members of the national team.
"V.League is a tough tournament that sees the strongest teams in the country. All of them have recruited talented players to build their strength. Hà  Nội FC, Quảng Ninh Coal and SHB Đà  Nẵng, for example, are powerful teams. I think this year V.League will be tense and competitive," said Doãn Văn PhÆ°Æ¡ng, president of Thanh Hóa.
"We have prepared well and we target the top position. But it is difficult to predict anything in football. We are determined and will try hard, but of course, we also need a little luck to make it happen."
Thanh Hóa's ambition and hope are running high after they lifted the FLC Cup trophy two weeks ago on home turf.
Last week, Petrovic finalised his list of 26 players. Petrovic, his assistant Alan Fiard, and the players were busy with practice and chose not to take a break to celebrate the New Year.
Players are also looking forward to the club's plans – announced recently – to upgrade facilities at their home stadium. Architecture firm Herzog & de Meuron, which designed Bayern Munich's Allianz Arena Stadium, will be invited to work on the Thanh Hóa Stadium, which will be upgraded to a 40,000-seat venue.
The project also includes a centre that promises the best training fields, functional rooms, apartments and a hotel. The plans have been submitted to provincial officials for approval.
Their first match is against archrival Sông Lam Nghệ An on Sunday on home ground, a central region derby that draws all eyes as the two teams have the largest number of fans among all other teams in V.League. The two teams have clashed six times in the past three years, in which Thanh Hóa beat Sông Lam Nghệ An twice, lost twice and drew twice. – VNS