(VOVworld) – Republican presidential candidate Donald Trump has been elected the 45th president of the US, winning 276 electoral votes. As the first US billionaire-turned president, Mr. Trump will be officially sworn into office on January 20, 2017, replacing current President Barack Obama.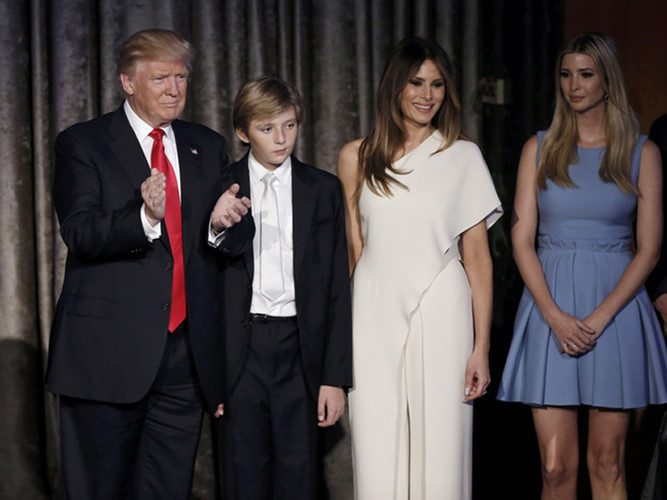 Trump was born in June 14, 1946, in New York and is the 4th child of a family with 5 siblings. His father was a successful real estate businessman. Trump, who owns 4.5 billion USD assets, ranks 113th among American billionaires and 324th in the world billionaire list 2016 by Forbes magazine. He is also a US media star as he was the star and producer of the NBC reality show "The apprentice". In 2007, he was honoured star on the Hollywood Walk of Fame for his contributions to the TV industry. Forbes magazine listed him the 30th most famous world figures in 2013. He ranked 72nd among the 100 most powerful world figures in 2015.
Commitment to make the US stronger
After beating his Democratic rival Hilary Clinton in the US presidential election on November 8, billionaire Donald Trump pledged to do his best to build a more powerful US. Addressing his supporters in his home city of New York, Mr. Trump said this is a time for the US to heal internal division and unite for its national future. He vowed to be a president for all Americans and announced an ambitious plan to boost economic growth towards achieving the goal of doubling GDP.
President-elect Trump said the new administration is ready to work with other countries and seek common foundations towards partnership.
World leaders congratulate US President-elect
Vietnam's President Tran Dai Quang and Prime Minister Nguyen Xuan Phuc sent congratulatory messages to Donald Trump for his win of the US presidency.
The Chairman of the Russian State Duma Vyacheslav Volodin expressed his hope that Russia and the US will have constructive dialogue, saying the Russian legislative body welcomes steps to be taken by the two countries in that direction. The Russian President Vladimir Putin sent a congratulatory message to Mr. Trump. Turkish Foreign Minister Mevlut Cavusoglu said Ankara will strengthen the relationship and cooperation with the US on the basis of mutual trust. In Brussels, Federica Mogherini, High Representative of the EU for Foreign Affairs and Security Policy, said the EU and the US will work together to consolidate Europe's strength.
Leaders of Japan, China, the Philippines, and Malaysia also congratulated US President-elect Donald Trump.