Nearly 20 art troupes register to attend Hue Festival 2014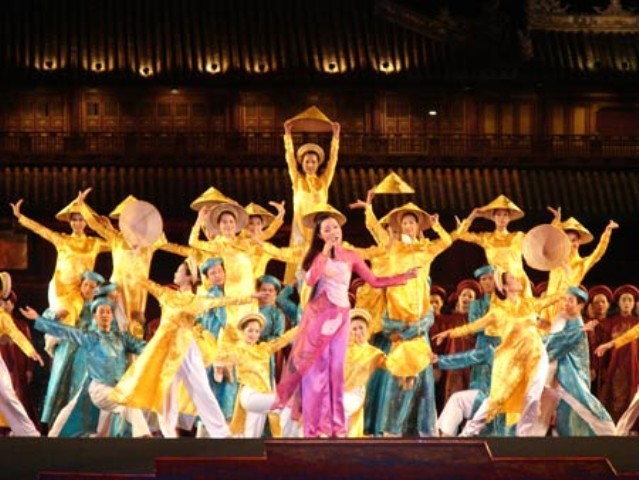 Themed "Cultural heritage with integration and development", the festival will be held from April 12-20, 2014 with a series of national- and provincial-level historical, cultural and art events.
According to Nguyen Van Thanh, an official in charge of managing the Hue Festival Centre, said the province is making efforts to improve the quality of the Hue Festivals, especially the 2014 event.
Besides regular activities such as the opening and closing ceremonies, an Ao dai (Vietnamese traditional dress) fashion show, street performances and folk games, a number of new programmes will be held as a distinctive feature of next year's festival.
Especially, the Ao Dai show will be combined with installation and fire art performances and contemporary dances to mark the 115 years of Truong Tien Bridge and Dong Ba Market.
The Vietnam Commercial Bank for Industry and Trade (Vietinbank) is now the biggest sponsor for the event with 5 billion VND (230,000 USD), followed by the Hue Beer Company (Huda), with 3 billion VND.
New book chronicles life of General Vo Nguyen Giap
Thaihabooks on October 10 announced it is set to publish a new book which chronicles 100 important events in the life of legendary General Vo Nguyen Giap.
The book provides a vivid account of key moments in the life of the prominent revolutionary dubbed the "Eldest Brother" of the People's Army of Vietnam.
In lieu of detailing the battles orchestrated by General Giap, the book features brief narratives of 100 historic events from his life and exemplary military career along with photos and famous quotes.
In addition to the 20th century legendary general, the book also provides ample reference to his contemporaries.
Through this book, readers can gain a better understanding about a great personality and one of the most important figures of modern Vietnam.
General Vo Nguyen Giap, who died on October 4, became famous following his championing the Battle of Dien Bien Phu that ousted the French from Vietnam in 1954.
Exhibition on ancient capitals highlights global values
An exhibition on the Thang Long royal citadel and the Ho Dynasty citadel was held in Hanoi on October 10 to popularise and highlight the global values of Vietnam's two world-recognised heritages.
On show were over 100 documents, sketches, images and artifacts that helped visitors have an insight on the construction materials and architectures of the two citadels.
Thang Long, now Hanoi, was the capital of the country of several dynasties while the citadel built in the present-day central province of Thanh Hoa was the capital of the short-lived Ho Dynasty in the last years of the 14th century and the first years of the 15th century.
The same day, a symposium on the same theme was held with reports focusing on the preservation and efforts to bring into full play the values of the two heritages.
Singapore road show to hit central city
Representatives from 80 travel agencies in the central provinces will participate in a Singaporean road show in Danang City on October 21.
The road show will be jointly hosted by Singapore-based SilkAir, Singapore Airlines, Changi Airport Group and Tradewinds tours and travel, and will showcase Singaporean destinations and hospitality services to Vietnamese tourists.
It's also a chance for Vietnamese tour operators to boost cooperation with partners in Singapore.
To mark the occasion, SilkAir will launch its fourth weekly flight between Danang and Singapore, via Siem Reap in Cambodia.
The flight will run on Thursdays, starting on October 31.
Exhibition of General Giap's documents and photographs
General Vo Nguyen Giap's documents and photographs are on display in the National Library of Vietnam, at 31 Trang Thi street in Hanoi.
On display are photographs on General Giap's life and career through different periods of history.
Apart from photographs of himself as a great military commander, a cultural activist and a talented historian, viewers can see the simplicity, closeness and modesty of a teacher that was closely associated with soldiers and people.  
PM Phan Van Khai congratulating General Giap on his 90th birthday (August 25, 2000)
Among the war-related documents are a decree to rank Vo Nguyen Giap as general and his secret telegram to the Liberation Army heading towards Saigon.
There are also many books on General Giap, including "General Vo Nguyen Giap-a complete collection of theses", "101 moments with General Vo Nguyen Giap", "Vo Nguyen Giap-a century, two long wars", and "The historic journey-Vo Nguyen Giap".
The exhibition will last through to October 18.
A fashion show featuring woollen creations by Vietnamese and foreign designers is set to wow audiences in HCM City on October 17.
Winner of the 2013 Project Runway Viet Nam, Hoang Minh Ha, will unveil his retro-inspired collection during the show, to take place at the White Palace Convention Centre.
Made primarily from wool and some other materials, Ha's designs have been inspired by the romantic trends of the 1970s and 1980s.
The fashion show will also see creations from Belgian designer Christian Wijnants, winner of the recent 2013 International Woolmark Prize.
Editor-in-chief of Vogue Italia and judge, Franca Sozzani, praised Wijnants creations as "flattering, feminine and sexy, a modern interpretation of wool".
In addition, the show will introduce some of the famous Australian Darnell collection consisting of unique vintages clothes and accessories.
Hailing from Pennsylvania in the US, Doris Darnell pursued her passion for vintage fashion items, accumulated over more than 70 years.
For Darnell, the social history behind the items is as important as the items themselves and preserving them and their stories for future generations became an important part of her passion.
Ancient royal decree discovered
The central province of Nghe An's Relic and Tourism Sites Management Board has recently found a rare silk royal promotion decree dating back nearly 400 years at a family temple in Nghi Loc District.
Nguyen Van Thanh, head of the board, confirmed that the letter found at Nguyen Trong family's temple was among the most valuable and rarest that has ever been found in the locality.
The decree was written on faded yellow silk with decorative background pattern of chrysanthemums. It contains nearly 300 Chinese characters, signed in 1829, with content praising General Nguyen Trong Thuong, a general under King Le Than Tong.
The decree has been kept by the family for the past 385 years. Apart from the decree, the family also possess two other decrees signed in 1621 and 1929 with contents praising Nguyen Trong Thuong and his father.
Da Nang wins two photo awards
Em Be Co Tu (Co Tu Ethnic Child), a portrait by Da Nang photographer Dang Van No, won the gold prize in the FIAP International photo contest portrait division, announced the Viet Nam Artistic Photographer's Association (VAPA).
It was the second gold medal Da Nang received in the contest.
Launched on May 30, the contest drew over 15,000 colour and monochromatic photos of nature and individuals by 1,400 photographers from 51 countries and territories. Medals were awarded to 48 finalists.
VAPA also selected the best 665 photos to display in an exhibition in Ha Noi next month.
HCM City set for tastes of Korea
HCM City will host a Korean food festival this weekend, the first of its kind to be held in the city.
The 2013 Taste of Korea Festival, to be called "Globalisation and Korean Food" and organised by the World Institute of Kimchi with support from the Vietnam-Korea Times newspaper, will offer visitors the chance to try many kinds of kimchi and coconut juice processed using bio-technology.
It will also feature kimchi- and kimbap-making contests, a Korean cuisine exhibition, and traditional games.
Experts from the institute will take part in a seminar on fermented foods, which are an integral part of Korean cuisine.
Forty companies and organisations, including the Korean Administration of Tourism, Ong Kim's, Tous Les Jours, will take part in the festival which expects to attract 90,000 visitors.
It will be held at Crescent Mall in the Phu My Hung Urban Area in District 7.
Public libraries need revamping to attract readers
Vietnamese have a longstanding passion for reading, which is evident at many street corners and parks with people deeply engrossed in the daily newspaper or a magazine. However, the number of book readers in public libraries is dropping alarmingly. Why?
As district leaders fail to give attention to public libraries, this task is left to untrained clerks who work as bookkeepers, lend books to readers and keep books in office hours when students and book readers are also at school or work.
When readers are free on Saturday or Sunday, they want to read but the library is closed. Therefore, the library is not attracting many readers.
Lack of relatively well-qualified personnel and limited funds has worsened the situation. Around VND20 million (US$950) is allocated to a library a year. There's not much money left for other expenses.
The library has only VND1 million (US$ 47) left which is just enough for buying 10 books.
According to statistics, around VND80 million (US$3,800) a year is allocated for effective activities, hence most of the documents in a library are merely newspapers and magazines.
Ha Kim Dung, Head of Library Network in Ho Chi Minh City, pointed out that run-down and unattractive display of books results in indifference among readers, especially children who are future readers of the country.
During his tour of libraries in China, Bui Xuan Duc, Director of General Sciences Library in HCMC, discovered decorative plants are grown and taken to libraries by kid readers. Young readers are encouraged to take part in tree planting competitions. The winners were those whose trees grew the most beautiful flowers.
Not only organizing tree planting competition among little readers, the libraries have beds where such special readers can lie down and enjoy reading instead of sitting upright on chairs. The libraries organize story telling competitions, teach how to draw, have game shows, all of which draw young readers.
Some libraries in District 2, 3, 4, 5, 6, Tan Binh, Binh Thanh, Cu Chi are highly valued by residents as librarians are well-trained staff who think of many ways to attract readers despite limited fund. As they know readers are busy, they send mobile book libraries to schools, factories, border guard stations, and workers' lodgings.
The library in District 6 even creates its own website and various activities; accordingly it has attracted many readers. In the future, the library plans to open one more facility in Binh Phu Park to serve people who go there for exercise and relaxation.
At the grassroots level, public libraries, if properly maintained, can play an important role in complementing the formal education system.
Hoang Duong Cam recalls 'The day before the Renaissance'
'The day before the Renaissance' is the fifth solo exhibition by Hoang Duong Cam and opens tomorrow at Galerie Quynh downtown, featuring new and rarely seen works by Cam.
If focuses on two bodies of work by the artist: 'Pinhole, 1972' (2012 – 2013) and 'The Bathers' (2009), both of which are inspired by the Renaissance, a period of history that the artist equates with personal liberation.
Cam draws upon the historical accounts of Hanoi in former East German journalist Thomas Billhardt's 1972 photo essay Hanoi Am Tage vor dem Friede when the country was still at war with the U.S. The paintings themselves depict deceptively innocent images that are simultaneously figurative and abstract with elusive forms and suspended, colorful fragments.
'The Bathers', too, was inspired by photo essays but from those originating in North Korea while Cam was in Tokyo on an artist residency.
Cam, born in 1974 in Hanoi, completed his studies at the Hanoi University of Fine Arts in 1996. He has participated in numerous exhibitions and biennales in Asia, North America and Europe.
The exhibition will run until November 9 at the gallery, 65 De Tham Street downtown.
Exhibition celebrates Hanoi's Liberation Day
The capital city's annual fine arts exhibition opened in Hanoi on October 9 in celebration of the 59th anniversary of Liberation Day.
This year's event has attracted more than 280 of the best works that portray the inherent natural beauty and quintessence of the people of the city.
The artists have utilised a wide variety of materials such as oil, lacquer, and silk in paintings and bronze, wood, stone, and ceramic in sculpture to capture the emotion and beauty that inspired them to convey their thoughts and feelings about the beloved capital.
Through the souls of painters and sculptures, Hanoi is featured as an ancient city basking in the tranquility of a summer mid-day, getting busier during rural markets.
The dynamism of the city and positive changes in all aspects of social and economic life thanks to achievements of the national renewal process are also reflected in the works.
Speaking at the opening, Head of the Hanoi city's Committee of Education and Communication Ho Quang Loi expressed his delight with the organisation of the event, which not only shows the artists' love for Hanoi but their unending creativity in high-quality artworks that bring cheer to the 59th anniversary of the capital's liberation.
He also stressed that city's leaders have always supported the artists in their work, which has provided nourishment to the resident's spiritual and cultural life.
At the ceremony, the Hanoi Fine Arts Association presented three B and three C prizes, and 10 certificates of merits for outstanding artworks.
Tran Thi Bich Hue and the B prize wins award for her painting 'Civilised Capital' at her back
One of the three B winning entries is 'Civilised Capital', a silk painting by Tran Thi Bich Hue. Hue chose pink as the major theme colour of her painting in hopes to soften and bring a slight bright glow to her work. She also expected to put on a soft cover to her work through silk material. At the centre of picture is the Temple of Literature, an iconic symbol of the studying tradition.
The exhibition not only brought together veteran names such as Le Thi, Hoang Cong Luan and Pham Phi Chau but also young artists, some of them are still students of the fine arts colleges and universities in Hanoi. One of whom is Nguyen Thi Thanh Tuyen, a graduate from the Hanoi College of Fine Arts, who received a certificate of merit for her wood-cut print entitled 'Days before Tet (lunar New Year festival)'.
"It is such a great honour for me to achieve recognition at such a large-scale exhibition, which is a reputable award for artists in Hanoi," she said.
"The young artists have brought a breath of fresh air to the exhibition's collection as they brought their vitality, energy and enthusiasm to their works, which reflects their positive look at the bright future of the capital city," said Pham Kim Binh, Chairwoman of the Hanoi Fine Arts Association.
The display is running in two exhibition houses at 29 Hang Bai street and 16 Ngo Quyen Street, Hoan Kiem district until October 20.
Jonas Alber conducts 'Brahms Cycle'
German conductor Jonas Alber will return to Hanoi to take up the baton on the IV Concert of the Brahms Cycle performed by the Vietnam National Symphony Orchestra at Hanoi Opera House at 8 p.m. on October 17 and 18.
The concert will also feature violinist Zhi Jong Wang. Audiences will be entertained with three masterpieces by Johannes Brahms, ones which are seldom staged in one single night together: The Tragic Overture, Violin Concerto in D Major and Symphony No 4.
Alber studied violin and conducting in Freiburg and Vienna. From 1998 till 2007 he held the position of general music director and conductor at the State Theater Braunschweig. Alber has since worked with renowned orchestras and opera houses around the world, from Hamburg to Madrid and Osaka.
Tickets are priced at VND500,000, VND350,000 and VND200,000 with student tickets costing only VND100,000 each. They are available at Hanoi Opera House, 1 Trang Tien Street and at Goethe Institute Hanoi at 56-58 Nguyen Thai Hoc Street.
Brazilian band Turtle Giant head to Cargo Bar
Brazilian indie outfit Turtle Giant make their Vietnamese debut at Cargo Bar tonight.
The gig announced by Loud Minority features a highly-rated band whose sound is described as 'epic', 'atmospheric' and 'psychedelic' classic rock.
The band were rated in the top 10 at the US's SXSW Music Festival earlier in the year and head back to the States later this month after they thrill Saigon fans at Cargo Bar. They will also debut their EP 'All Hidden Places' for the crowd. They recently headlined Hong Kong's 37th Polymuso event and wowed a sold-out crowd. Support comes from Saigon's premier disco-funk outfit The Marmalades and DJ Vlatka from Croatia will be spinning some indie anthems till the early hours. The big night starts at 8 p.m.
Tickets are just VND100,000 in advance and VND150,000 at the door.
Cargo Bar is located at 7 Nguyen Tat Thanh, District 4, tel: 0907539239.